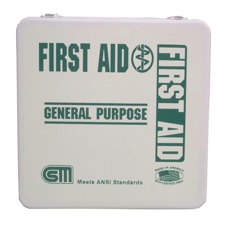 Certified Safety First Aid Kit 24M General Purpose ANSI
Availability:
Call for Availability
Brand:
SAFETY SUPPLY SOUTH
24M-GP General Purpose First Aid Kit
Same unitized features as Elite Series kits. Economical contents comparable to competitive kits. All kits meet and exceed ANSI Standard Z308.1-1998. All sizes are available in poly white. Metal box.
Included in Kit:
ITEM DESCRIPTION

PIECES PER UNIT

QUANTITY

Absorbent Compress, 32 sq.in.
Certi-Strip, Plastic, 1" x 3"
Certi-Strip, Plastic, Extra Large
Certi-Strip, Woven, Fingertip, M/L
Certi-Strip, Woven, Knuckle
Adhesive Certi-Tape, 1/2" x 2-1/2 yd.
Antiseptic BZK Towelettes
Bandage Compress, 4"
Certi-First Aid Cream, 1 gm.
Cold Pack, Certi-Cool Junior
Eye Wash, Certi-Ose, 20 ml.
Certi-Gauze Roll, 4" x 6 yd.
Certi-Gauze Pads, 3" x 3"
Gloves, Latex, Pair
PVP Iodine Wipe-Ups
Triangular Bandage with Pins

1
16
6
10
8
2
10
1
6
1
1
1
4
2
10
1

2
4
1
1
1
1
1
1
2
1
1
1
1
1
2
1