Get a FREE NAFECO T-Shirt With Any Online Purchase (Available at checkout. While supplies last.)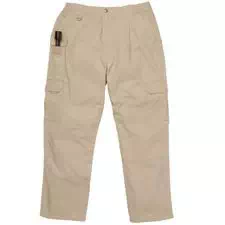 5.11 Pant, Ladies Tactical Khaki
Availability:
May direct ship from manufacturer.
Product Code:
64355-055-XX
Women's 5.11 Tactical Khaki Pants
The 5.11 Tactical Pant is the ultimate blend of convenience, efficiency, and durability. It has been designed as a piece of equipment - not just a garment. Our commitment to quality can be seen by the components used to make these remarkable pants, from the high density tactical canvas to the Prym snap and YKK zipper. Reinforced stitching, double fabric knees, and the double fabric seat guarantee that the seams and stress points are built for a lifetime.
Be prepared for any situation - spacious cargo pockets allow you to stow away extra magazines, handcuffs, a flashlight, or any other gear effortlessly. The front utility pocket is perfect for a cell phone or pager. With reaction time in mind, all of these pockets are designed for maximum access from any position. These features have made the 5.11 Tactical line of clothing the number one choice of federal, state, and local law enforcement for more than 15 years. More comfortable than any BDU, as professional looking as slacks, and as tough as the men and women who own them - the 5.11 Tactical Pant is the best piece of equipment you can wear.