Amerex Extinguisher, 10# BC Wall Bracket, (60B:C)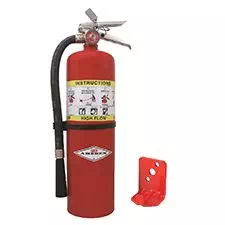 Amerex Extinguisher, 10# BC Wall Bracket, (60B:C)
Call for Pricing
Availability:
Only 4 left in stock.
This item is currently not available for sale online. Please call us at 1-800-628-6233 to order or for more information.
Amerex 10 Lb. BC Fire Extinguisher with Wall Bracket. REGULAR extinguishers contain a siliconized sodium bicarbonate based dry chemical with free flowing and non-caking additives. Economical Class B & C protection with lower initial cost and recharging. This chemical smothers fires in flammable liquids and pressurized gases and will not conduct electricity back to the operator.