Amerex Extinguisher, 10lb Purple K Fire w/ Brass Valve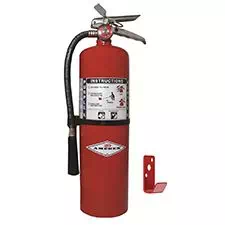 Amerex Extinguisher, 10lb Purple K Fire w/ Brass Valve
Call for Pricing
Availability:
Only 2 left in stock.
This item is currently not available for sale online. Please call us at 1-800-628-6233 to order or for more information.
Amerex 10 Lb. Purple K Fire Extinguisher with Brass Valve and Wall Bracket. PURPLE K extinguishers contain specially fluidized and siliconized potassium bicarbonate dry chemical which is particularly effective on Class B flammable liquids and pressurized gases. It is electrically non-conductive. Purple K has been the choice of oil, gas, chemical and utilities industries as the perfered fire fighting agent.