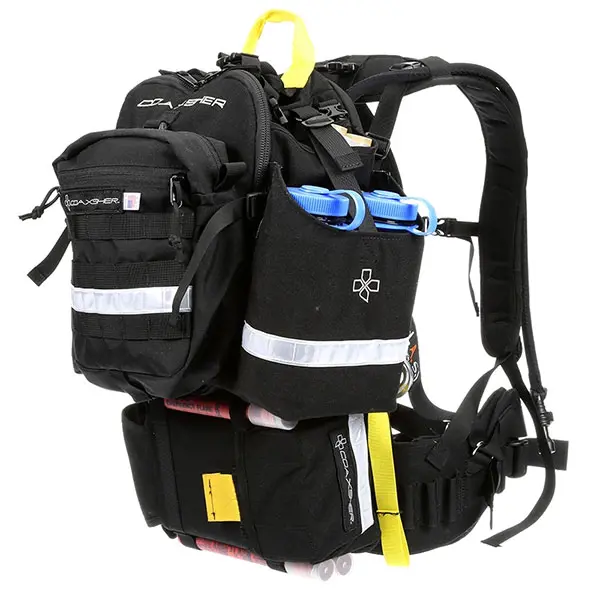 Coaxsher Wildland Fire Pack, FS-1 Ranger
Availability:
Only 4 left in stock.
Product Code:
FS-1-RANGER
Coaxsher Wildland Fire Pack, FS-1 Ranger (FS-1-RANGER)
When you're fighting wildfires, you need to focus on your job, not your equipment. You need a comfortable, lightweight fire pack like Coaxsher's FS-1 Ranger that can be customized to meet your needs. With its ergonomic harness system, adjustable waist belt, and Dual Action Stabilizer, this modular fire pack is ideal for long shifts in rugged conditions, allowing you to carry everything you need without pain or strain.
FS-1 Ranger highlights
Modular: With the FS-1 Ranger, you can (1) carry as much or as little as you want, (2) choose how to best assemble the pack, and (3) quickly transform the pack with quick-release buckle connections. The pack can also adjust to fit different body types and sizes, suitable for almost anyone on the fire line.
Comfortable: The pack's ergonomic harness system is equipped with aluminum stays that provide excellent load support, and its D.A.S. system keeps load weight focused on the hips while stabilizing your balance, providing optimal comfort for long hours on your feet.
Durable: Made from 1000D Cordura, box stitching, and reinforced stress points, your FS-1 Ranger pack is made to withstand extraordinary conditions. Backed by our lifetime warranty, we worry about the quality of your equipment, so you don't have to.
Features
Specifications:
Material: DuPont® 1000 Denier Cordura®

ITW Nexus® Buckles and Hardware

YKK® Zipper Pulls & Tape

Quality Nylon Webbing

Total Weight: 78 oz / 4.88 lbs / 2.21 kg.

Main Pack Volume & Weight:
| | | | |
| --- | --- | --- | --- |
| cu. in. | liter | lbs/oz | kg. |
| 1500 | 24.58 | 1/7 | 0.65 |
Light-Duty Pack Volume & Weight:
| | | | |
| --- | --- | --- | --- |
| cu. in. | liter | lbs/oz | kg. |
| 400 | 6.55 | 0/7 | 0.20 |
Features:
Modular Pack System for Multiple Set-Up Options

Aluminum Stay Frame Structuring for Custom Fit

New Patent Pending D.A.S. Dual Action Stabilizer

Spin-Drift Collars Inside Side Pockets (New for 2009)

4 Grommets on Each Side Pocket Provides Maximum Drainage for Fluids and Dirt (New for 2009)

Additional Inside Mesh Storage Pockets (New for 2009)

Daisy Chain with Built-In Heavy-Duty Snaps Provide the Ability to Attach Belt-Loop Accessories (New for 2009)

Quick-Release ITW Nexus Buckles on All Connection Points for Maximum Speed when Converting Pack (New for 2009)

Adjustable Waist Belt/Torso to Fit Multiple Sizes

Ergonomically Designed Harness System

Webbing Reinforced Stress Points

102 oz. Water Reservoir Pocket w/ Dual Hose Ports

New Generation Fire Shelter Case w/ Alice Clips

Glove Pocket on Fire Shelter Case (New for 2009)

Two Side Pockets for Water Bottles (Capacity: 4 - 32oz.)

Total of 10 Pockets for the Organization

Tool Loop to Secure Tools to Pack (New for 2009)

Two Covered Side Pockets for Fusees

Lifetime Warranty
Also available in Red, Green, Blue, Yellow, and Orange. Call to order special colors.