Elkhart Tip, 1.5", Twist Shutoff, Forestry/Hi-Rise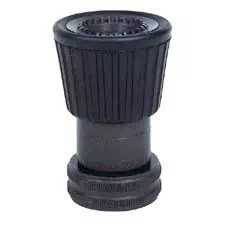 Elkhart Tip, 1.5", Twist Shutoff, Forestry/Hi-Rise
Availability:
May direct ship from manufacturer.
L-205-BA 1.5" or Mid-Range Mystery Nozzle Tip
Constructed of durable, lightweight Elk-O-Lite with a heavy-duty protective EPDM bumper, these nozzles are ideal for Hi-Rise or ground level operations. Like all mystery nozzles, these feature excellent stream quality from full wide fog to a tight straight stream, with the capability of twisting the nozzle tip to complete shutoff. Any of these nozzles can be used with Elkhart's lightweight Elk-O-Lite ball shutoffs to make a variety of break-apart combinations. Many low pressure flows available.
FEATURES:
Durable, lightweight Elk-O-Lite construction
Base threads - 1.5"
Twist shutoff
Finish hard anodized
Length - 4.625"
Weight - 1.375 lbs.
Gallonage Options (please specify). If not specified, 125 @ 75 furnished

125 @ 75 psi
95 @ 100 psi
60 @ 100 psi
125 @ 100 psi