Enforcer, Air Charged Unit, 3 Gallon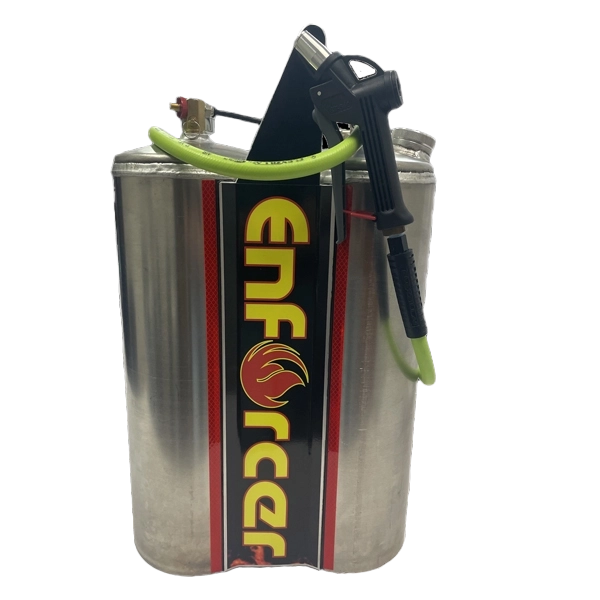 Enforcer, Air Charged Unit, 3 Gallon
Call for Pricing
Availability:
Only 3 left in stock.
This item is currently not available for sale online. Please call us at 1-800-628-6233 to order or for more information.
Enforcer, Air Charged Unit, 3 Gallon (ENF-3-AIR)
_
The Enforcer 3 is a portable compressed air foam system that contains 3 gallons of foam solution. The Enforcer 3 portable CAFS is capable of producing up to 60 U.S. gallons of finished foam. The Enforcer 3 produces a foam structure that can stick to horizontal and vertical surfaces thus providing a vapor barrier between the fuel and air. The Enforcer 3 portable CAFS has a discharge distance of up to 45 feet allowing for a safe distance between the system operator and the fire or hazard. Enforcer has developed a line of products that are easy to use and drastic reducing points where vital components could be broken or tampered with. The Enforcer 3 portable CAFS is a versatile firefighting tool with the ability to be adapted to many different risk areas. Specially designed to maximize performance with FIREBULL Fluorine Free Foam. The advantages of the Enforcer portable CAFS over a standard 2 ½ gallon pressurized extinguisher are numerous. With the addition of an external pressure source, the Enforcer 3 has a constant discharge distance all the way through the solution tank (No Drop in Throw). The expanded foam is created inside the unit thus eliminating the need for an air-aspirated nozzle. Increased discharge time plus half a gallon more firefighting product. In simple with the Enforcer 3 portable you get fully expanded foam with a longer throw and discharge time than you get with a regular 2 ½ gallon extinguisher.


Features
Pressure Vessel Construction Aluminum
Pressure Vessel Dimensions 9" x 24.5" x 7"
Fill Tower 1"
System Hoses 3/8" / 1/4" 300PSI Hard Rubber hoses
Plumbing Rubber Hose with Brass Fittings
Discharge Hose 3/8" x 38.5" 300psi Booster Hose
Hose Storage Bracket built into Unit
Propellant Type Nitrogen
Propellant Cylinder Capacity One 12 Cubic FT. Cylinder
Propellant Cylinder Brackets Compartment Built into Unit
Discharge Nozzle Pistol Grip
Discharge Nozzle Tip Smooth Bore
Unit Construction Aluminum
Handle Aluminum with Foam Pad
Additional Options Additional Nitrogen


Performance
Pressure Vessel Capacity 3 U.S. Gallons
Finished Foam Capacity 60 U.S. Gallons
Throw Distance Up to 45 Feet
Discharge Duration Up to 1 Minutes