Fireade 2000 3% x 3% AR-AFFF Foam, 5 Gal Pail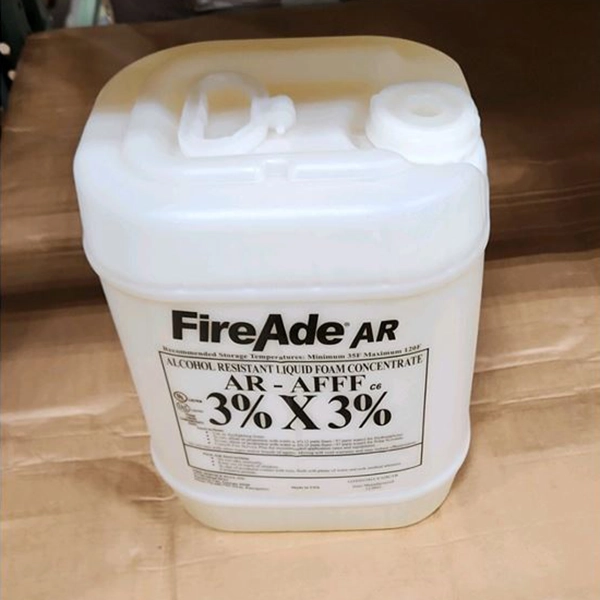 Fireade 2000 3% x 3% AR-AFFF Foam, 5 Gal Pail
Call for Pricing
Availability:
May direct ship from manufacturer.
Product Code:
FA2-AR33-005
This item is currently not available for sale online. Please call us at 1-800-628-6233 to order or for more information.
FIREADE 2000 AR-AFFF Environmentally formulated FireAde® 2000 AR-AFFF is the newest generation in Alcohol-Resistant Aqueous Film Forming Foam. This formulation signifies our commitment in protecting our environment using Green Agent Technology#. FireAde® 2000 AR-AFFF concentrate is formulated to prevent additional environmental hazards when applied to a fire. The capacity of FireAde® 2000 AR-AFFF to produce a stable, heat resistant and self-sealing blanket provides superior performance to traditional AR-AFFF and AFFF foams. FireAde® 2000 AR-AFFF contains NO hazardous materials in the formulation. The special formulated concentrate has a dramatically reduced viscosity compared to most AR-AFFF. The viscosity enables FireAde® 2000 AR-AFFF to be used in all types of foam portioning systems, in-line eductors, and standard foam equipment. Green Agent Technology: Environmentally Formulated 98% Organic Compounds Contains no PFOA or PFOS Zero Hazardous Chemicals Encompasses Water Based and Food Grade Ingredients Fully Biodegradable Contains no ingredients reportable under the Superfund amendments and Reauthorization Act (SARA) Applications: FireAde® 2000 AR-AFFF may be used on a vast range of Class A and Class B fires. Typical applications include warehouse, spills, storage tanks, loading docks, loading racks, process areas, etc. FireAde® 2000 AR-AFFF is applicable at 0.25% - 1.0% on Class A fires as a wetting agent. Certifications: FireAde® 2000 AR-AFFF is UL 162 approved 7th edition for 3% on hydrocarbon fires (non-water misable fuel) and 3% on polar solvent fires (water misable fuel). FireAde® 2000 AR-AFFF is LASTFIRE (Large Atmospheric Storage Tanks) certified under Resource Protection International a Fire Hazard Management (FHM) group.