Flamefighter Pike Pole Dry Wall Hook, D-Handle, 2'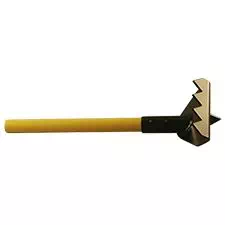 Flamefighter Pike Pole Dry Wall Hook, D-Handle, 2'
Call for Pricing
Availability:
May direct ship from manufacturer.
This item is currently not available for sale online. Please call us at 1-800-628-6233 to order or for more information.
The head of our drywall hook is fabricated from 3/16" plate steel parts that are formed and then welded into a solid structure. The use of fabricated plate results in a stronger head than a casting would provide as well as being lighter. This tool is fantastic for tearing apart walls to find hidden fire pockets. The blade on the back of the head is sharpened on each end and is designed to quickly pierce drywall. The head is then turned around so the operator can dig into the wall with the aggressive teeth and rip large pieces of material away as needed.