Fol-Da-Tank Portable Tank, 2500GAL 22oz Vinyl Aluminum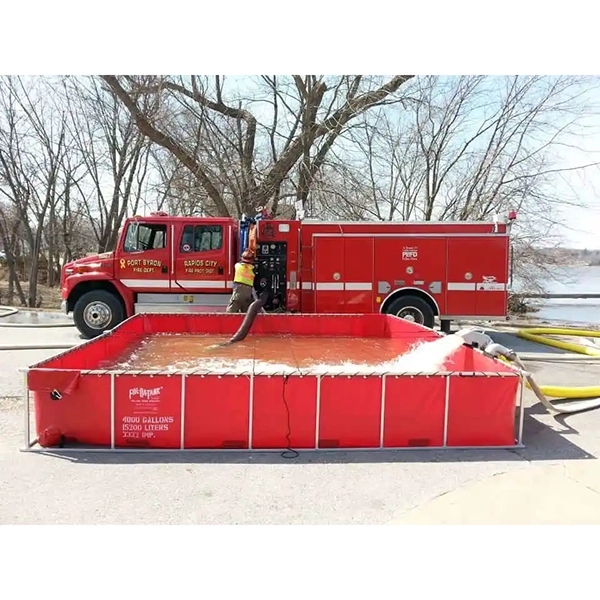 Fol-Da-Tank Portable Tank, 2500GAL 22oz Vinyl Aluminum
Availability:
May direct ship from manufacturer.
Product Code:
FDTA-2500-ALUM-22V
Fol-Da-Tank Portable Folding Tank, 2500 Gallon With 22 oz. Vinyl and Aluminum Frame
It was more than 57 years ago that the first Fol-Da-Tank was introduced to firefighters, who recognized its value and quality immediately. In fact, the quality was so good many of these original models are still on the job, performing like new. Two men can unload the Fol-Da-Tank from the truck and set up in less than 30 seconds. While the pumper empties the Fol-Da-Tank a tanker can be bringing more water. Fol-Da-Tank has proved to be the practical answer as an extra water supply for rural areas where water pressure is low or as a back-up facility for municipal fire departments. Fol-Da-Tanks come standard with grab handles and hinge protectors pinch free design (U.S. patent #7,938,291, Canadian patent #2624553) to help firefighters when folding the tank. Grab handles can be placed on the bottom side walls or floor of the liner to eliminate any snaging of Low-Level strainers or hose. Fol-Da-Tanks are a great resource for oil spill containment and oil spill clean up.
Aluminum Frame
1" square tube, 1/8" wall structural aluminum with snag free finish - Aluminum square tube is 26% lighter than steel
1" square tube with radius corners
1" schedule 40 aluminum round tube frame
Die cut aluminum sheet plate hinges