LION Helmet, Am Heritage Goggles, Bourkes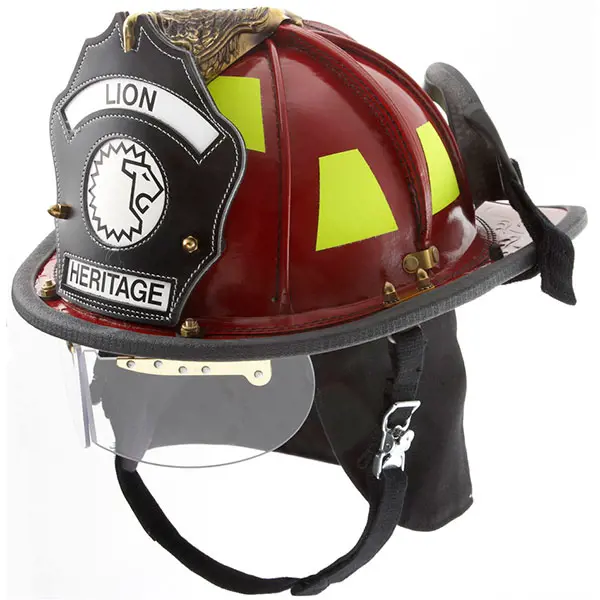 LION Helmet, Am Heritage Goggles, Bourkes
Availability:
May direct ship from manufacturer.
Product Code:
LFH4120D-XX
Features
Shell — Fiberglass shell employs exclusive patented TherMax™ composite technology to ensure thermal protection, light weight and structural integrity of the entire shell. RTM molding provides color pigmentation throughout for lasting good looks. Additional thermal protection is provided by the Classic's removable thermal insulator and thermoplastic liner.
Suspension — Patented Center of Gravity™ adjustment system lets you set the center of gravity to your liking and keeps it positioned in place. The suspension system is removable for easy inspection, cleaning or maintenance.
Height adjusters — Provide three different headband height positions.
Ratcheting headband — Adjusts from size 5½ to 11. Headband is cushioned with foam and covered with black knit Nomex® for comfort and secure fit. Other materials available upon request.
Eye protection — Choose from: • High temperature 4" APEC faceshield with thumbwheel adjustments • ESS goggles • Flip downs with goggles (can be purchased without goggles, but will not be NFPA compliant)
Edge binding — Aluminum core edge binding is durable, but light.
Chinstrap — Easy-to-adjust, quick-release chinstrap with postman's slide.
Ear covers — Black DuPont™ Nomex® brand fiber/flannel ear covers for added neck/ear protection. Other materials/colors available upon request as replacement parts.
Shield holder — Hand-carved brass eagle leather shield holder.
3M™ Scotchlite™ Reflective Material (2" x 2½" lime-yellow trapezoids) — Has excellent heat resistance and maintains brightness and color after heat exposure.
Colors — Available in yellow, black, white, red, blue, orange or natural.