LION Legend Helmet,Quick Clean ESS Goggles & Bourkes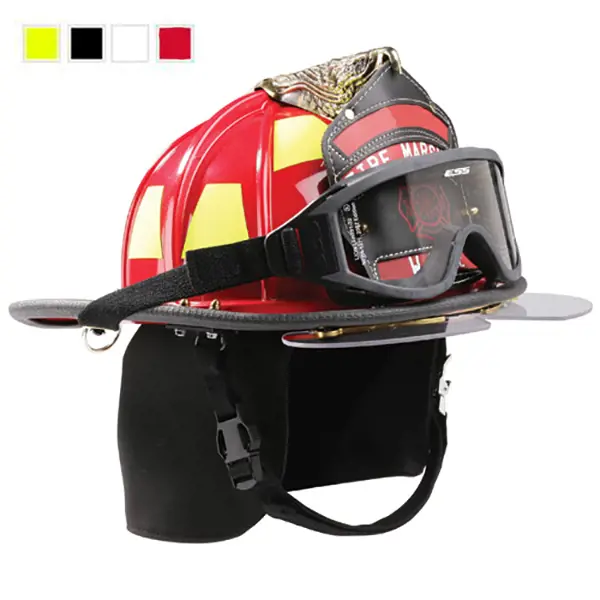 LION Legend Helmet,Quick Clean ESS Goggles & Bourkes
Availability:
May direct ship from manufacturer.
Product Code:
LFH8228D-QC-XX
LION Legend Helmet, Quick Clean ESS Goggles & Bourkes (LFH8228D-QC-XX)
_
Lightweight Construction. Heavyweight Protection.
Built strong to last long using state-of-the-art composites to form the lightest, strongest American Legend fiberglass fire helmet EVER, keeping you ready for action.
Advanced materials and smart design keep the stress load down but remain "heavyweight" when it comes to taking a hit, thanks to LION'S strong-as-hell shell and impact cap system.


QuickClean™ Soft Goods
Featuring NEW easy-to-remove QuickClean soft goods system designed to encourage frequent laundering because cleaner gear is safer gear. The entire suspension system can easily be removed (LION designed their mesh wash bag to fit it all, saving you the time and hassle of removing small pieces). An available "second set" soft good kits mean no excuses when it comes to cleaning your act up
Durable, Matte Finish Shell
Impact-resistant distressed finish shells with through-color mean the look you want remains during the life of the helmet. Want high gloss? Coming in 2023, LION can FR paint in standard colors (Black, Red, Yellow, and White) as well as Blue, Orange, and Green.
Lowest Profile Traditional
The lowest profile traditional helmet you can find means you feel balanced and secure without added height that interferes with your ability to move quickly. Patented Center of Gravity™ adjustment system lets you set it to your liking and keep positioned in place – save the wiggle and the wobble for the dance floor.

Features:
A low-profile SMC shell with a powder coat, impact-resistant finish
Weigh in at just 50 to 56 ounces (depending upon configuration)
Ratcheting headband with a Nomex® foam wrap adjusts to fit head sizes 5.5 to 9.5
Washable, replaceable Nomex® and flannel ear/neck covers
Patented Center of Gravity™ adjustment system for a custom fit
Brass helmet holder screws
No-Melt aluminum core edge binding
Sturdy hand-carved brass eagle leather shield holder
3M Scotchlite™ Reflective Material Trapezoids
Brass D-ring helmet hanger
Quick-release, easy-adjust chin strap, with a new extended length

Specs:
Weight: 50 - 56 oz
SMC shell with a powder coat, impact-resistant finish.
Impact cap with ratcheting headband cushioned with Nomex foam wrap.
Suspension: 3-position rear ratchet height adjustment
Eye Protection: Faceshield, flip-downs, goggles or goggles and flip-downs
Reflective Elements: 2" x 2.5" Lime-Yellow 3M Scotchlite Reflective Material Trapezoids
Size: Adjusts from 5.5 to 9.5


Color(s):
Yellow, Black, Red, White