Lightning X Turnout Gear Bag Quad Vent, Fluorescent Yellow 30 x 14 x 15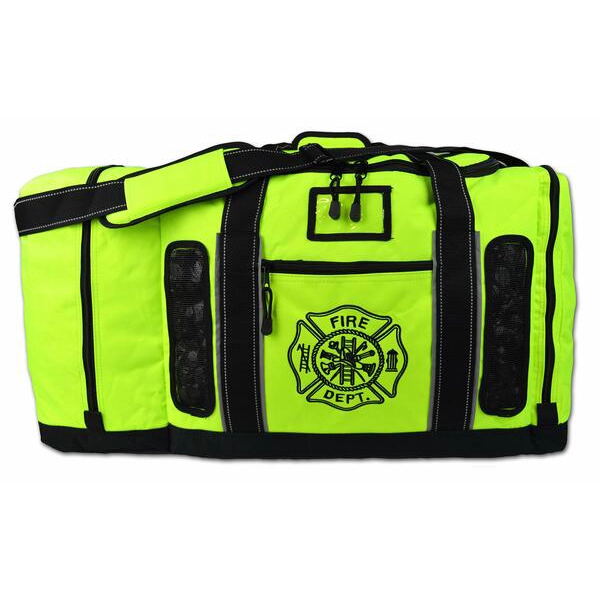 Lightning X Turnout Gear Bag Quad Vent, Fluorescent Yellow 30 x 14 x 15
Availability:
May direct ship from manufacturer.
Lightning X Turnout Gear Bag Quad Vent, Fluorescent Yellow (LXFB45M-FY)
Lightning X Products has been making quality public safety bags for nearly 15 years. From time to time we get the urge to improve upon existing bag designs. The LXFB45M uses Quad-Vent Technology that features four uniquely shaped mesh vents located at each corner of the turnout gear compartment to promote cross ventilation. This keeps your gear fresh and helps prevent mildew from forming. Our competitors only offer a bag with one vent, in the rear of the bag how is air supposed to flow through just one vent? The Quad-Vent bag is large enough to hold all of your gear, boots, and helmet comfortably without being so big that it becomes cumbersome to carry around.
Features
Dimensions: 30" x 14" x 15"
Color: Fluorescent Yellow
Weight: 10 lbs
Four PVC reinforced mesh air vents front & back provide full ventilation for your gear
Comparable bags only offer a single air vent
Cross ventilation allows gear to dry faster
Helps prevent the growth of mildew from storing damp turnout gear
Adjustable padded shoulder strap with heavy-duty snap hooks
Embroidered Maltese Cross logo, not screen printed
Zippered top flap for step-in access to gear
Ballistic nylon webbing handles with reflective stitching sewn-in
Dual zippers on all pockets with nylon pull tabs zip the full length of the bag
A separate helmet compartment will hold a traditional style fire helmet
Two personal/accessory pockets