Nupla Ball Pein Hammer, 8oz Classic Handle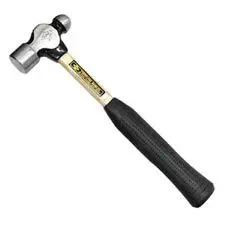 Nupla Ball Pein Hammer, 8oz Classic Handle
Availability:
Only 1 left in stock.
WHY NUPLA?
Patented Super Duty NUPLAGLAS handles give you exceptional strength, safety, durability, and comfort. Composite construction consists of millions of continuous, parallel fiberglass strands cured under tension in a themosetting resin over a lightweight honeycomb core with solid fiberglass reinforcement at critical stress points.
STRENGTH:
Exceeds all federal standards.
SAFETY:
NUPLAGLAS is an excellent dielectric material.

Smooth, resin rich surface protects user from splinters, resists UV deterioration.
DURABILITY:
Does not absorb moisture, resists industrial chemicals, fire retardant.

Outlasts wood handles 10 to 1
COMFORT:
Does not conduct heat/cold, easy to handle in extreme temperature conditions.

Ergonomically designed grips for comfort and stress reduction. More rigid than wood and most other fiberglass handles, reducing wasted effort.
ALL HANDLES IN THE NUPLA PRODUCT LINE ARE GENUINE NUPLAGLAS WITH A LIFETIME WARRANTY.