Rescue 42 CTC Strut Engine Kit w/ Kevlar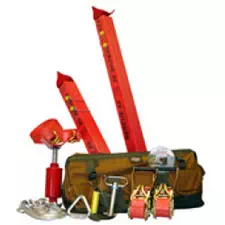 Rescue 42 CTC Strut Engine Kit w/ Kevlar
Call for Pricing
Availability:
May direct ship from manufacturer.
This item is currently not available for sale online. Please call us at 1-800-628-6233 to order or for more information.
A small, compact kit designed for Engines or Pumpers with limited compartment space, but who may carry a combo extrication tool for light extrication.
Includes:
1 Long Strut
1 Short Strut
2-27' Straps
1 Screw Jack Head
1 Hook Cluster
1 Cinch Ring
1 Spare Strut Pin
1 Spare Base Pin
1 Accessory Bag and Instructional DVD.
Total kit weight: 75 lbs.