Rescue 42 CTC Strut Truck Kit w/ Kevlar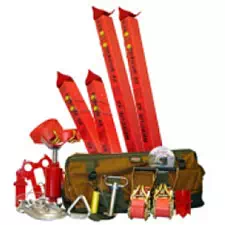 Rescue 42 CTC Strut Truck Kit w/ Kevlar
Call for Pricing
Availability:
May direct ship from manufacturer.
This item is currently not available for sale online. Please call us at 1-800-628-6233 to order or for more information.
Rescue 42's most popular kit contains two short and two long struts, plus all the accessories needed to stabilize one to two cars in most extrication scenarios.
Includes:
2 Long Struts
2 Short Struts
4-27' Straps
1 Screw Jack Head
1 A-Frame Head
1 Spike Foot
1 Hook Cluster
1 Cinch Ring
1 Spare Strut Pin
1 Spare Base Pin
1 Accessory Bag and Instructional DVD.
Total kit weight: 160 lbs.