Super Vac Smoke Ejector, 16" 4 Hp Honda GX120 Engine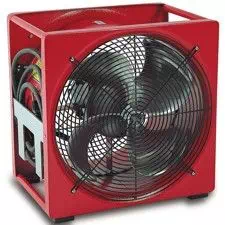 Super Vac Smoke Ejector, 16" 4 Hp Honda GX120 Engine
Availability:
May direct ship from manufacturer.
16

" Square Gas Model GP164S
Super Vac is the leader in airflow and compact fan design for gasoline powered PPVs. The heart of these units is the cast aluminum 7 blade airfoil propeller designed specifically for use on PPV fans. Poured in Super Vacs foundry of the toughest aircraft alloys, the blade is the perfect combination of a low noise, high output design. Engines come with a factory approved two year warranty. The rest of the fan is covered by Super Vacs five year warranty. The direct drive system eliminates belts and pulleys for years of trouble free operation.
The GP164 is the smallest gasoline powered fan in the industry. The versatile design feature the ability to attach duct to the inlet or outlet side of the fan. Used by departments worldwide for many years, the GP is a proven performer for departments where size and versatility are paramount.
Horsepower: 4 HP
Dimensions: 14.5"D x 18.75"W x 20.0"H
Weight: 55 lbs.
RPM: 2,800
Set Back: 6 ft.
Angle: 10 Degrees
CFM: 9,250