Team K12 Rescue Saw, 14", 94cc, Saw Only (No Blade)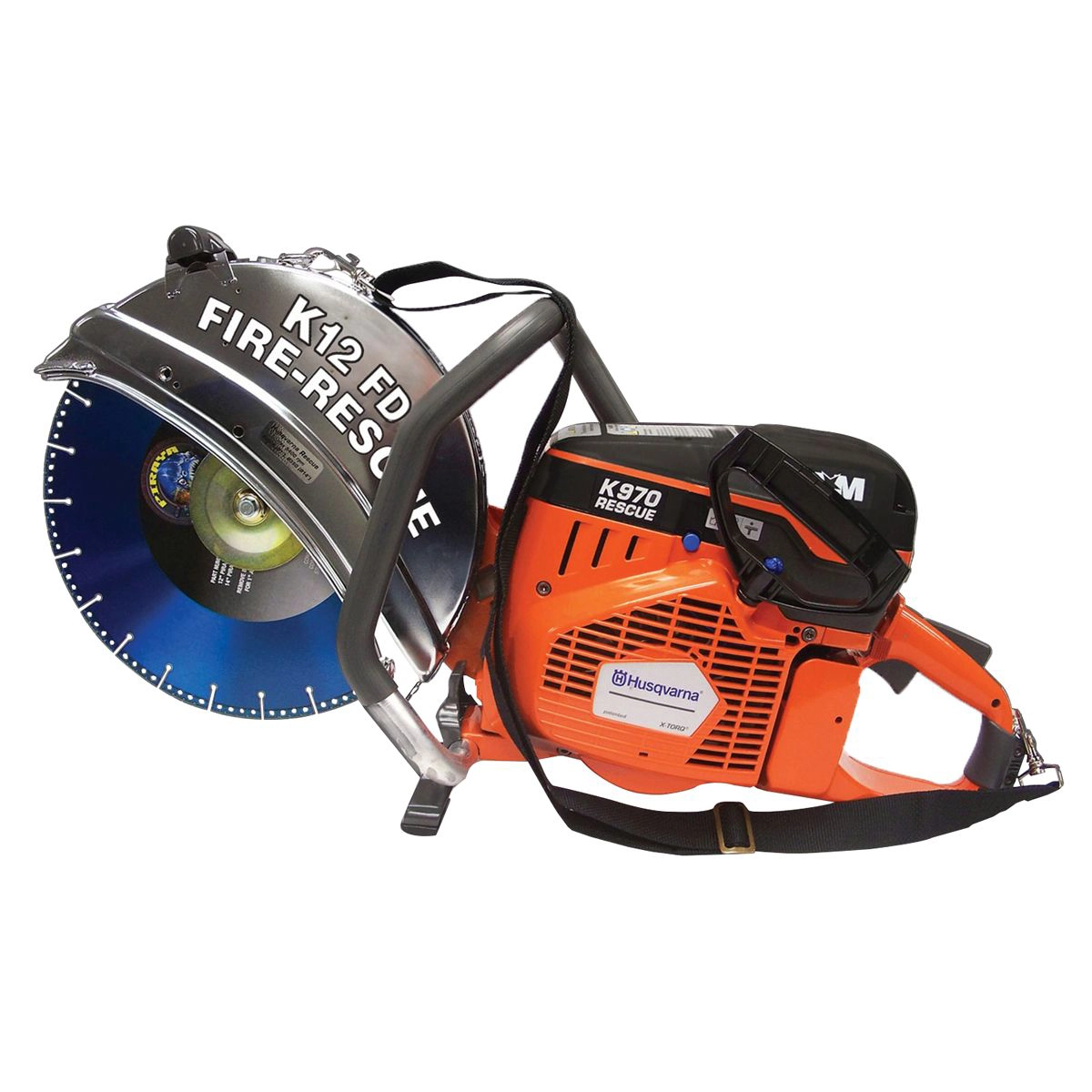 Team K12 Rescue Saw, 14", 94cc, Saw Only (No Blade)
Availability:
Only 2 left in stock.
Team K12 Rescue Saw, 14", 94cc, Saw Only (No Blade)
Dating back to the Partner K12, up to today's technological leading TEAM HUSQVARNA K12FD Fire Rescue Saw lineup, the TEAM Partner/Husqvarna K12FD saws are designed to satisfy or exceed every demand made by the Fire Service for a multi-purpose rescue saw.
Our best all-around rescue saw - The K12FD94 has the best power/weight ratio of any rescue cutter on the market. Perfect ergonomics in a compact package, combined with the latest technological advances makes the Team Husqvarna K12FD94 a staple in fire departments nationwide. The TEAM HUSQVARNA K12FD94 Fire Rescue Saw is the best all-around primary rescue saw ever introduced to the fire service and will be the rescue saw of choice for the emergency service for years to come!
While many departments across America have multiple saws at their disposal, some rural or volunteer departments may not have the financial ability to have multiple saws. In this instance we recommend the TEAM Husqvarna K12FD94 cc 14" rescue saw paired with a TEAM 14" Maxiblade carbide tipped blade for roof ventilation and a 14" Piraya diamond blade. The saw is a perfect balance between power and weight, paired with our "Cuts Everything" blade bundle (1 each = Maxiblade & Piraya), you will be ready and able to cut anything standing in your way.
Robust and reliable
Less sensitive to outdoor conditions and fuel variations, thanks to the cylinder design and muffler with integrated heat deflector.
Easy to start
Optimal ignition timing makes the K12FD94 Rescue Saw start easily in any situation.
Rescue Saw Long service intervals
A strong Poly-V belt combined with our maintenance-free DuraStarter™ and efficient filter-system Active Air Filtration™ ensure long service intervals.
High power with less fuel
Our built-in automatic filter compensation SmartCarb™ maintains high power and lowers fuel consumption.
Light and powerful
A light, compact and powerful rescue saw with superior power-to-weight ratio.
Maintenance-free air filter
The only time the filter needs to be checked and changed is if you experience lack of power.
Active Air Filtration™
Our two-step filtration system with centrifugal cleaning and a single paper filter increases product life and extends service intervals.
Reduced wear
Reduced wear thanks to the drive belt with fully sealed transmission, which keeps out the cutting dust.
Cuts close to walls or ground
The cutting arm is reversible which lets you cut closer to walls or the ground. The drive belt has a fully sealed transmission. This keeps out cutting dust etc, reducing wear.
Blade Retarder
Reduces the stop time of the blade when the machine is switched off, which improves safety.
Less emissions and fuel consumption
Our X-Torq® engine produces less emissions, has lower fuel consumption and results in more power.
Anti-vibration system
Our anti-vibration system reduces vibrations in the cutter handles, so they are more comfortable to hold and can be used for longer periods. To provide the user a comfortable operating position reduced strain, the distance between the handles is large. The handles and the short engine body mean the user always stands close to the machine, for easier handling and control.
Chromium-plated blade guard
For high visibility in smoke and water spray, which enhances control of the cutter.
Specially designed "D" starter handle
Specially designed "D" starter handle, with room for heavy gloved-hands.
Adjustable carry strap
Adjustable carry strap allows full freedom of movement.