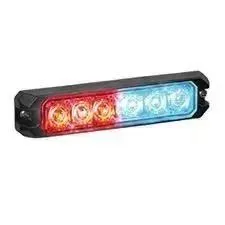 Able 2 MEGA 63 LED Light, Red/Blue
Availability:
May direct ship from manufacturer.
Product Code:
10.6322.RB0
Each LED unit utilizes Six 3 watt LEDs and are available in both solid and split colors. Colors flash simultaneous or alternating with 22 different patterns. They can be synchronized to work together with many other LED modules. The size of these light heads allow them to be mounted in numerous locations such as: grilles, bumpers, dash, deck, or anywhere else your imagination can take you. Each light head comes standard with a black mounting flange and hardware.
Features
Six 3W LEDs in each light
21 selectable alternating and simultaneous flash patterns
Flash patterns can be synchronized when using multiple lights
Heavy-duty black cast aluminum housing
Optical lens cover controls light spread and protects LEDs
Weather and vibration resistant
Includes mounting gasket and 6" pigtail
4 wires for simple set-up - 1 Positive, 1 Negative, 1 Sync, 1 Pattern
1" H x 5" W x ¾" D
12 - 24 Volts / 0.5A Avg. - 0.7A Max