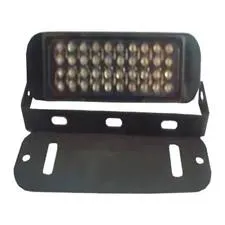 Able 2 Micro-Lite, Red LED w/ Black Housing
Product Code:
11-9000-R00
Sho-Me Red/Black LED Micro-Lite
11.9000 LED Micro-Lite (black housing)
Includes a stainless steel bail-mounting bracket, mounting screws and an 18-inch power cord. (Flasher sold separately)
Features:
Waterproof light mounts on dash, deck, grille, push-bumper or trunk.
Clear lens cover protects 40 high-intensity LEDs.
Available in single or dual colors of amber, blue, green, red or white.
Choice of housing: black ABS plastic or chrome-plated ABS plastic.
Designed with knock-out holes for flush- or bail-mounting applications.
Sold individually without flasher or in two- and four-light kits with flasher.
Headliner bracket and double-stick mounting tape available for an additional charge.
Specifications: (each Micro-Lite)
12 volt
Load: 0.5 Amps
Weight: 3.2 ounces
Dimensions: 1 1/2" H x 5 1/8" W x 11/16" D