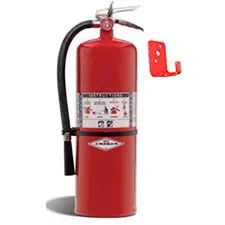 Amerex Extinguisher, Purple K 20# w/Brass Valve
Availability:
28 In Stock
PURPLE K - Stored Pressure Fire Extinguishers
PURPLE K extinguishers contain specially fluidized and siliconized potassium bicarbonate dry chemical which is particularly effective on Class B flammable liquids and pressurized gases and it is electrically nonconductive. Long the choice of the oil, gas, chemical and utilities industries as the preferred fire-fighting agent.
SUPERIOR QUALITY -manufactured and tested to ANSI/UL standards. Amerex is an ISO-9002 registered firm.

RUGGED CONSTRUCTION - easy and less costly to maintain and service

U/L U.S. COAST GUARD LISTED - 6 year warranty

Bar coded labels for documenting extinguisher locations, inspection, maintenance and recharging

Complete range of sizes for all hazard requirements

TEMPERATURE RANGE: -65 to +120 F
Available in a variety of types and sizes of wheeled and stationary extinguishers.
CLASS B:C Extinguisher