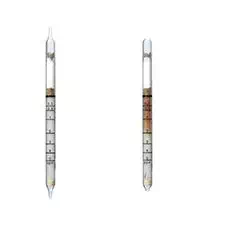 Draeger Tube, Chlorine 0.3/b 0.3-10 ppm, Box of 10
Availability:
Call for Availability
Draeger Tube - Chlorine 0.3/b
Order No. 67 28 411
Application Range
Standard Measuring Range
0.3 to 5 ppm
Number of Strokes n:
20
Time for Measurement:
approx. 8 minutes
Standard Deviation:
± 10 to 15%
Color Change:
pale green-grey to brown
Ambient Operating Conditions
Temperature:
0 to 40° C ~ 32 to 104° F
Absolute Humidity:
< 15 mg H2O / L
Reaction Principle
CI2 + o-tolidine brown reaction product
Cross Sensitivity
Bromine is indicated with the same sensitivity, but with a paler discoloration. Chlorine dioxide is indicated with different sensitivity. Nitrogen dioxide is indicated as well, but with a paler discoloration and lower sensitivity.
Extension of the Measuring Range
Using n = 10 strokes, multiply the reading by 2, the measuring range will be 0.6 to 10 ppm.
View the entire Draeger Tubes & CMS Handbook