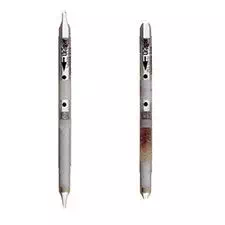 Draeger Tube, Oil Mist 1/a 1-10 mg/m3, Box of 10
Availability:
Call for Availability
Draeger Tube - Oil Mist 1/a
Order No. 67 33 031
Application Range
Standard Measuring Range
1 to 10 mg/m3
Discoloration compared to color standard.
Number of Strokes n:
100
Time for Measurement:
approx. 25 minutes
Standard Deviation:
± 30%
Color Change:
white to brown
Ambient Operating Conditions
Temperature:
10 to 30° C ~ 50 to 86° F
Absolute Humidity:
< 20 mg H2O / L
Reaction Principle
Oil mist + H2SO4 → brown reaction product
Cross Sensitivity
The tube indicates only mineral and synthetic oil aerosols (mist). Oil vapors and vapors of other higher molecular weight organic compounds are not indicated.
Additional Information
After performing the required 100 pump strokes the reagent ampoule must be broken and the liquid carefully drawn onto the indication layer using the pump.
View the entire Draeger Tubes & CMS Handbookk