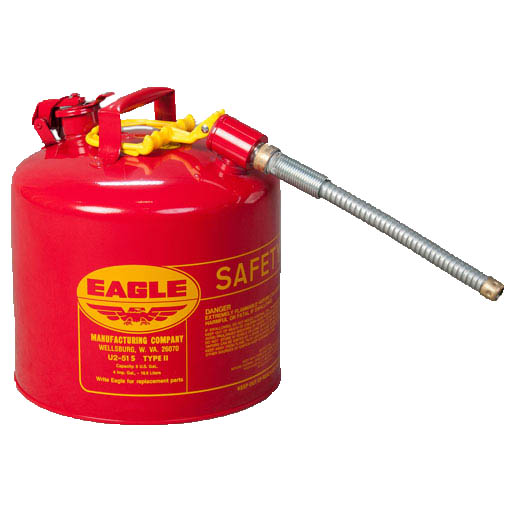 Eagle Type II Safety Can 5 Gal., Red, 7/8" Flex Spout
Availability:
Call for Availability
Brand:
EAGLE MANUFACTURING
Eagle Type II Safety Can 5 Gallon
Eagle's 5 Gallon Type-II Safety Can (U251S) feature two openings, one with a pressure-relief spring closing lid for filling, one with an actuated pour valve with a flexible metal spout for safer controlled dispensing. The filler spout and flame arrestors in both openings are non-sparking brass designed for flashback protection. Can includes a 7/8" flexible metal spout and a red (for gasoline and other flammable liquids)powder coat finish with a trilingual label. FM, UL, and ULC Approved and meet OSHA and NFPA Code 30 requirements. Compliance: OSHA 29 CFR 1910.106, 1925.152 and NFPA Code 30.
Capacity: 5 gal (19 L)
Color: Red