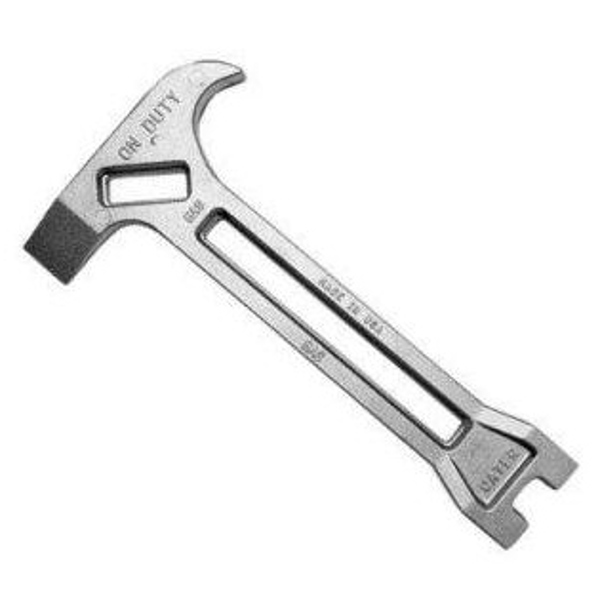 Emergency Tool, 4 In 1 Non-Sparking
The "On Duty® 4 in 1 Emergency Tool™" was designed by Professional Firefighters 2 days after the 1989 San Francisco Earthquake.
The "4 in 1 Emergency Tool™" was expertly designed to: Shut Off Gas, Shut Off Water, Pry Open Doors, and Dig Through Debris in Emergency Situations.
The "4 in 1 Emergency Tool™" was carefully crafted using only the toughest, highest quality materials to ensure safety and reliability. This tough, heat treated tool, won't rust or spark, is made of the same High Quality Compounds used in the Aerospace Industry and tested by Professional Firefighters.
The "On Duty® 4 in 1 Emergency Tool™" is approximately 11 inches high, 5 1/2 inches wide and 1 inch deep. It weighs less than 1 pound and is used by Firefighters, Law Enforcement, Community Emergency Response Teams (C.E.R.T.) and Rescue Teams throughout the USA.
Using the "4 in 1 Emergency Tool™" will help you prepare for any emergency. When faced with an earthquake, tornado, hurricane, severe storm, or other life-threatening disaster, it is essential to be able to perform certain life-saving tasks. Turning off your gas valve may be necessary to avoid an explosion or fire due to a gas leak. Equally important, you must be able to turn off your main water valve in the event of a break in a water pipe, which could result in severe flooding of your home or business.
The American Red Cross recommends that a tool for turning off gas and water be included in every disaster supplies kit. Reaching your disaster supplies and loved ones is always a priority during a disaster or emergency. Having a tool to assist you in prying open jammed doors and digging through debris can help you to perform this task more quickly and efficiently. This is especially important when reaching someone who is injured.
Thanks to the invention of the 4 in 1 Emergency Tool™, you can perform all of these important tasks with one lightweight, heavy duty, easy-to-use tool. This affordable, multi-functioning tool is a must for every home, business, and emergency kit. When you or your family are in danger, you can count on the 4 in 1 Emergency Tool™ to assist you in multiple safety and rescue tasks.
The "On Duty® 4 in 1 Emergency Tool™" is also MADE in the USA and helps provide jobs to America"s Disabled.
Prepare YOUR Home, Business and Community with The "On Duty® 4 in 1 Emergency Tool™"
Vendor Part Number: FST-1103SK