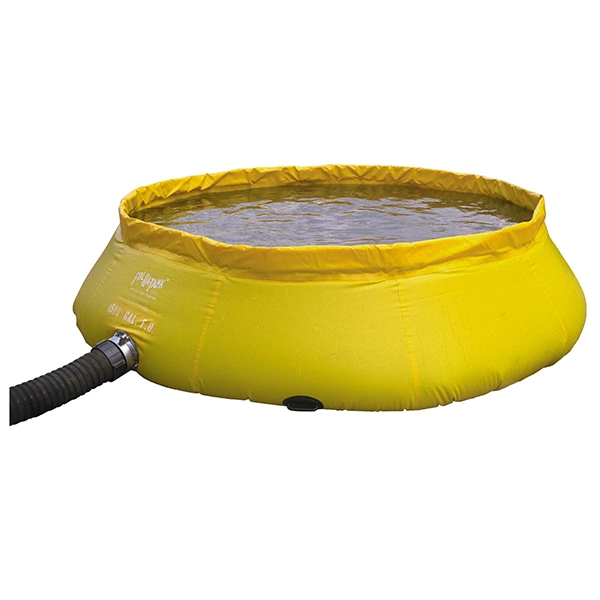 Fol-Da-Tank Self Supporting Portable Tank, 1500GAL
Availability:
May direct ship from manufacturer.
Fol-Da-Tank Self Supporting Portable Tank, 1500 Gallon
The self-supporting frameless portable water tanks have been designed to meet the most stringent requirements of rural/urban fire fighting. Problems with inadequate or unusable supplies of water are eliminated by the use of open top self-supporting portable water tanks. In remote areas the self-supporting tanks are designed for standby water containment, water shuttling situations and provide a continuous portable water supply. In remote areas, the SST may be filled by pumping water from a natural water source, such as a stream or creek, with a small gas operated pump. As the self-supporting tank begins to fill with water, its unique design allows it to become self supporting automatically. The SST does not require any additional supporting framework, assembly, or frame installation. Easy lift grab handles are placed evenly around the base of the tank for easy set up. Fol-Da-Tanks new HPR® High Performance Rubber is a proprietary formulated fabric to replace Hypalon. Now get the proven high performance fabric used in your Fol-Da-Tanks in your self-supporting tanks! When choosing quality & dependable fabrics choose Fol-Da-Tank HPR®
Applications:
Fire Fighting
Water Relay
Water Storage
Mixing Tank (Fire retardant)
Hazardous Waste
Features:
Totally Self-Supporting - No frame work - No assembly
No foot pump necessary
Heavy duty vinyl (PVC)
All seams welded for longer life
Unique Ethafoam collar - No need to inflate
Onion and Pumpkin style design
Easy lift grab handles are placed evenly around the base of the tank for easy set up
4 grab handles spaced evenly around the tank
Compact storage bag included
All self-supporting tanks are supplied with one threaded flange coupling installed
Any number and size of hose connections can be added for bottom drafting
22 oz. PVC sides and 30 oz. PVC floors
All 30 oz. PVC
6,000 - 20,000 tanks are made from 35 oz. or 40. high tear strength UV resistant vinyl with 2" welded heat sealed seams.
22 oz. HPR® is now available for a great all around performing liner fabric.
All self supporting tanks come with 1 - all aluminum flange 1.5" - 6.0" male or female and protective flap.
Special lettering available
Lifetime warranty on fabric seams.
Couplings available: NST*, NPSH*, Storz, Cam* and custom threads*
*Indicate male or female connections available