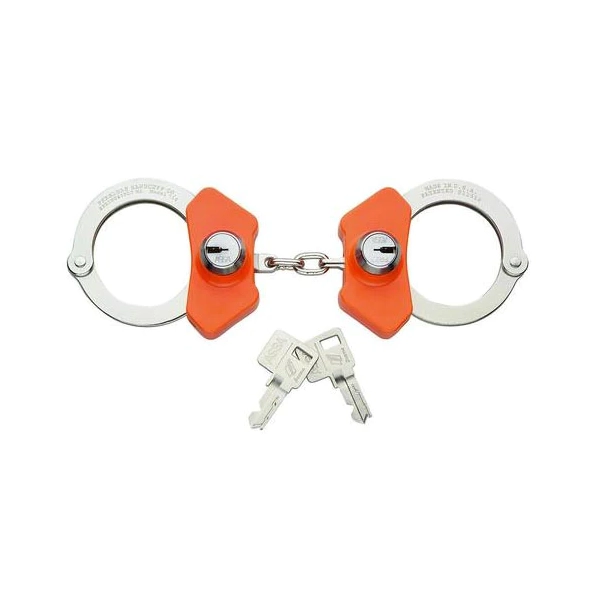 Peerless Handcuffs, Oversized High Security
High Security Oversize Handcuff
The Model 7030HS is designed for high risk prisoner restraint and transport situations. The Model 7030HS does not operate with a standard handcuff key. The Model 7030HS incorporates Model 7030 Oversize Chain Link Handcuff with a MEDECO® or ASSA® Desmo high security lock system and Lexan® polycarbonate housing.

MEDECO® and ASSA® Desmo are recognized leaders in pick resistance lock systems. Multiple sets can be ordered with two different key options. Each set can be keyed alike or each set can be keyed different. Both MEDECO® and ASSA® Desmo use restricted key control systems to prevent unauthorized key duplication.
The Lexan® polycarbonate housing is nearly unbreakable and is color coded orange for high visibility.
Other features include spun rivet construction, double lock capability, and profiled edges to reduce risk of tissue and nerve injuries. All products come with two keys, a double lock activator, and a lifetime warranty for manufacturing defects. Made in USA.
Weight:
14 oz / 340 gms

Material/Finish:
Carbon Steel / Nickel / Lexan

Minimum opening:
2.75 inches / 70 mm

Minimum inside perimeter:
7.5 inches / 191 mm

Maximum inside perimeter:
10 inches / 254 mm

Maximum overall length:
10.5 inches / 266 mm