PGI Cobra Classic Carbon Hood, Black, 2-PLY, NFPA 1971-2000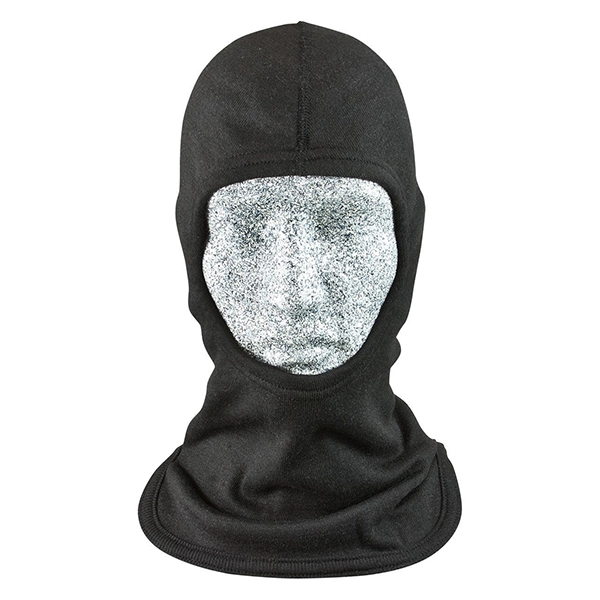 PGI Cobra Classic Carbon Hood, Black, 2-PLY, NFPA 1971-2000
PGI Cobra Classic Carbon Shield Hood
Carbon Shield is a flame resistant fabric breakthrough based on carbon fiber technology. Considered the ultimate high-tech fabric for thermal protection and comfort. During the torch test, after about 5 seconds, traditional FR fabrics combust, severely shrinking and charring. Carbon Shield remains dimensionally stable even after 90 seconds, giving you the extra time you need to get out safely.
Carbon Shield Material
Double-ply hood provides coverage of neck, upper chest and to the top of shoulder blades
Contoured shoulders reduce bunching of bib
Flat stitched seams
X-heavy 1/2" wide elasticized face opening
Cover stitched bound drape
UL Classified to NFPA 1971: Standard on Protective Ensembles for Structural Fire Fighting and Proximity Fire Fighting Current Edition
Arc Rating: 23.3 / HRC Rating: 2
FABRIC:
Outer shell is a blend of Carbon/High Strength Aramid -approx. 6.5 oz sq yd.
1 x 1 rib knit fabric - knit to allow approx. 200% stretch for maximum stretch and recovery.
Designed to minimize laundry shrinkage.
STITCH TYPES AND SEAMS:
All stitching conforms to federal Standard 751 Specifications (FED-STD-751).
Major seams are flat seam assembled, stitch type 607.
Elastic in face opening is serged in with stitch type 504 and reinforced with bottom cover-stitch, stitch type 406.
Binding is applied with bottom cover-stitch, stitch type 406.
THREAD:
All seams are sewn with 100% Nomex thread size Tex 40.
CONSTRUCTION:
Composed of two layers throughout.
Seamed from top of face opening to bottom back then cover-stitched for extra strength.
Face opening is circular in shape and serged with x-heavy duty ½" wide elastic around the perimeter. The elastic is then folded back ½" and cover stitched. The face opening stretches a full 16" (which is 25% more than conventional hoods) for easy donning and a snug fit around face of SCBA mask. Face opening maintains original shape after repeated launderings.
The bottom edge of hood is bound with self-material bias binding.
Shoulders are contoured on each side allowing the hood to lie flat on the chest and back for maximum coverage.
Size: One size hood fits all.
Face opening is circular and measures between 4.6" to 5.6" in diameter.
Length of hood below face opening approx. 9".
Length of hood at side from top to bottom approx. 15".
Length of hood at front and back from top to bottom approx. 18½".
Labeling and User Information:
Each hood is clearly labeled to identify material contents, NFPA acceptance, UL Classification, Date of Manufacture, and Care Instructions. Included with each hood is a complete users information guide.
Meets or Exceeds Industry Standards
UL classified to meet or exceed NFPA 1971-Current Edition; European standard 13911-June 2008 (CE marked to EC directive 89/686/EEC); Compliant with CAL-OSHA, Sections 3406 and 3410(d) and OSHA Rule 29 CFR, Part 1910, 269. Compliant with NFPA 70E Current Edition and meets performance specifications of ASTM-F-1506. ARC Rating: 23.3 Hazard / Risk Category 2.