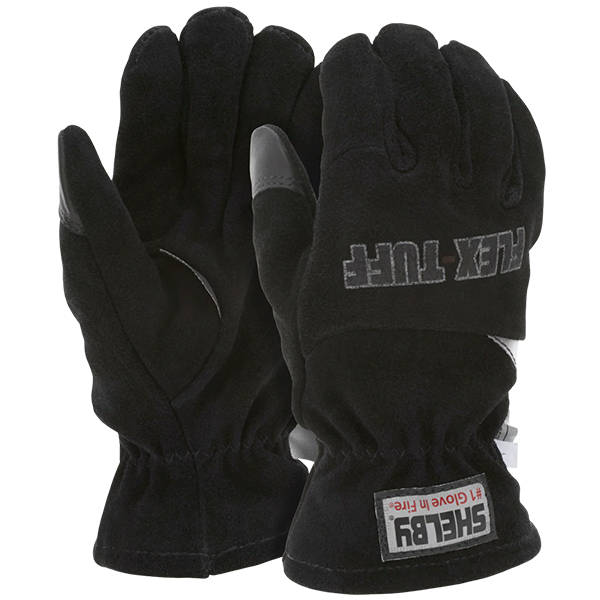 Shelby Flex-Tuff Glove Gauntlet, RT7100 Barrier, NFPA
Shelby Flex-Tuff Gloves Gauntlet Style (no wristlet)
Relaxed Curved Hand
The natural position of the hand at rest
Shelby Flex-Tuff Pre-Curved Thermal Liner
Brushed thermal liner with a "Reverse Gunn" pattern technology that is another first from Shelby, allowing for a true pre-curved thermal liner. Our system is designed to mate flawlessly and prevent "glove roll in the palm and fingers" resulting in a secure hold on tools and hoses, using less grip force resulting in less hand fatigue during extended use.
Shelby Flex-Tuff Pre-Curved GORE RT7100 Glove Barrier Fabric System
Unmatched thermal stability in its class and the reputation of The World Leader in Barrier Technologies. The Shelby exclusive seam sealed system is 100% dunk test proven and is the ONLY pre-curved lining barrier system that mirrors the outer shell.
Nomex On Demand Emergency Protection and Thermal Layers
Exclusive lightweight DuPont thermal barrier that boosts protection when and where it's needed most.
Shelby Flex-Tuff Pre-Curved Shell Layer
Functionally enhanced multi-dimensional (2, 3 & 4D) protective leather glove pattern that features a tapered trigger/index finger with Shelby engineered Flex-Points on thumb, middle, ring and small fingers. The end result is superior index finger dexterity and better finger and thumb articulation. Our G-BLOC proprietary wrist blocking system prevents glove creep during usage, providing a secure, comfortable and responsive fit.
Reflective Safety Enhancements
Snag resistant 3M reflective nail guards and Reflexite bridge stripe for better visibility.