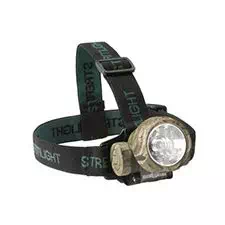 Streamlight Buckmasters Camo Trident 3 Green Leds, AAA,
Availability:
May direct ship from manufacturer.
Streamlight 61070 Buckmasters Camo Trident LED/Xenon Headlamp Flashlight is the perfect headlamp for outdoor enthusiasts. Buckmasters Camouflage Trident series of Streamlight offers the unique combination of a high powered xenon bulb and three 100,000 hour green LEDs.
Features
REALTREE Hardwoods® Green high definition (HD) camouflage pattern*
300 mA xenon bi-pin bulb delivers 12 lumens
3 night vision, Safety-green, 100,000 hour life LEDs provide 11 lumens
3-position lighting:1) xenon bulb 2) one LED 3) three LEDs
Water-resistant light-weight thermoplastic construction