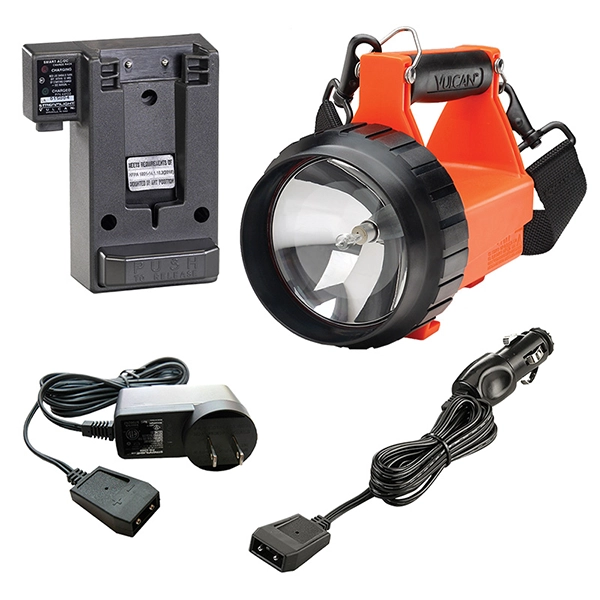 Streamlight Fire Vulcan,Orange LED AC/DC Charging System
Availability:
11 In Stock
Streamlight Fire Vulcan LED, AC/DC Charger, Orange
RECHARGEABLE LED LANTERN

So light it floats!

The brightest rechargeable LED lantern in its class! Its brighter, lighter and smarter. The life-saving taillights are just part of what makes the rechargeable Fire Vulcan LED such a critical firefighting tool. New C4® LED technology and our special reflector make it 5 times brighter than competing lights. Its lighter too, about 45% lighter than the halogen Fire Vulcan®.
C4® LED, impervious to shock with a 50,000 hr lifetime
Light Output: High 80,000 candela peak beam intensity and 145 lumens measured system output; Low 40,000 candela peak beam intensity and 70 lumens measured system output; Deep-dish parabolic reflector produces a tight beam with optimum peripheral illumination to aid in navigation; Optimized electronics provide regulated intensity
Ultra-bright blue taillight LEDs make certain you can be seen even in thick smoke
Two lightweight lithium ion nanotechnology cells; recharges in 5 hrs
Run times: Steady high LED & taillights: up to 3 hrs to the 10% output level; low: up to 6 hrs
8 programmable switch functions
Charger base meets requirements of NFPA 1901
Reinforced D-Rings
Easy to operate toggle switch
IPX7 rated design - waterproof to 1 meter for 30 minutes
Fits existing Streamlight Vulcan chargers
Two models: Standard System with AC/DC and Vehicle Mount with 12V DC direct wire charging rack; both models include a quick release buckle strap
Lightweight. Just 1.85 lbs
Serialized for positive identification
Limited lifetime warranty