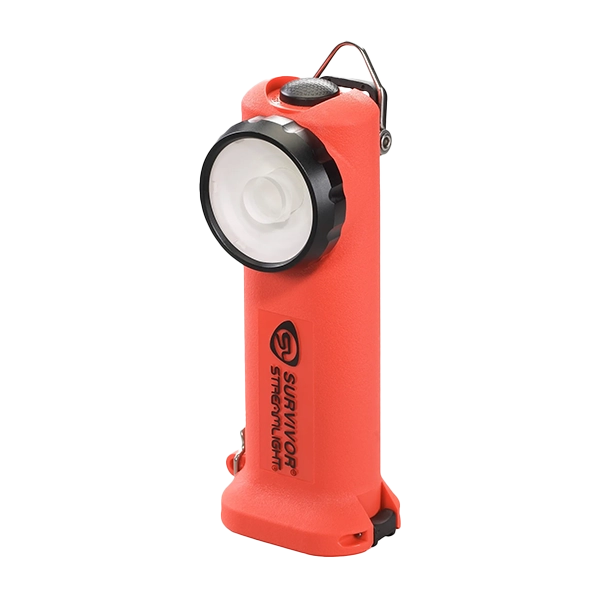 Streamlight Survivor LED, Alkaline, Orange
Availability:
97 In Stock
Orange Streamlight Survivor Right Angle LED Light
This leading Class I, Div. 1 right angle flashlight features a slim profile, a D-ring for accurate light orientation and a spring-loaded clip that grabs onto your gear. Four lighting modes include high, low, flash, and moonlight (for low-level lighting to preserve batteries). IPX4 water-resistant. Unbreakable, scratch-resistant polycarbonate lens. Push-button switch is designed for easy operation even with heavy gloves. The Survivor features a low-profile bezel that doesn't interfere with gear and equipment. The clip securely grabs onto gear, and the D-ring allows your light to hang forward.
BATTERY: 4 "AA" alkaline
SIZE: 7.6" (17.92 cm)
WEIGHT: 13.7 oz (388 g)
COLOR: Orange
LUMENS: Low (60) - High (175)
CANDELA: Low (14,000) - High (41,000)
DISTANCE: Low (237m) - High (405m)
RUN TIME: 4 to 15 hours. Moonlight mode allows for 20 days of continuous run time. Flash mode run time is up to 8 hours.
APPROVALS:
NFPA (Rack meets requirements of 1901-14.1.11.2 (2003) mounted in any position)
MSHA (Permissible Flashlight, Approval No. 20-A150001-0)
SGS (Class I & II, Division 1, Groups C,D,E,F,G; Class III, T4 Class I, Division 2, Groups A,B,C,D; T4)
HAZ-LO Division I Lighting