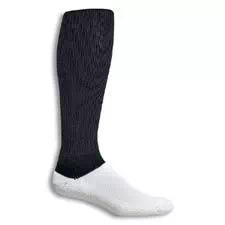 Thorlo Sock, Black Uniform White Toe, Over-Calf
Availability:
May direct ship from manufacturer.
Product Code:
WSXL-132-BLK-11
Thorlo Black Uniform Socks, White Toe Over-Calf
Size 11
Uniform, White Toe Over-Calf
Patented and engineered with medium density padding at the ball and heel to protect against abrasion and impact. White yarns at the foot help to prevent sensitive skin irritation.