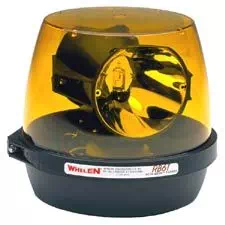 Whelen Light, Amber Permanent Dual, Rota Beam Beacon
Availability:
May direct ship from manufacturer.
Whelen Amber Dual Halogen Rota-Beam Beacon
Rota-Beam™ RB6 Series
In 1956 Whelen introduced the popular Rota-Beam Rotating Beacon. RB6 continues this tradition with superior performance and reliability. The Rota-Beam RB6 is a versatile, mid-sized beacon, perfect for utility, maintenance, fire and rescue applications. Its straightforward relampable design is easy to install and easy to service.
New dual reflector model, 65 RPM produces 130 FPM for a longer "on time" light
Single parabolic reflector beacon, 150 RPM produces 150 FPM
Sturdy, lightweight construction
Tall and wide profile
Unique motor assembly with precision double roller ball bearings provides superior performance with less friction, minimal noise and ultimate reliability
New parabolic reflectors, designed by computer sterolithography, have dramatically increased light intensities with greater optic spread
3 year warranty on motor assembly
Meet and exceeds S.A.E and California Title XIII and NFPA 1901 requirements for emergency vehicles
Polycarbonate domes are sealed to base with weather resistant "O" ring gasket
Non-corroding bases offers both 1" NPT pipe mount and concealed permanent flat mount in same unit. No additional flanges or mounting collars are required
Perm/Pipe Mount Kit
Straightforward relampable design is easy to install and easy to service
50 watt halogen lamp delivers greater intensity of comparable beacons