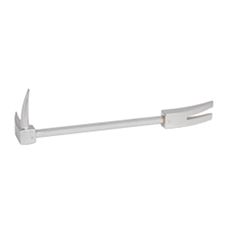 Zico 30" Quic-Bar Tool- Chrome
Availability:
Call for Availability
Brand:
ZIAMATIC CORPORATION
30" QUIC-BAR tool - 3-piece - chrome: 3-piece bar. Ends are forged in high alloy aircraft steel and are tapered to a fine point to facilitate entry. Hex bar is stress-proof steel. Bar is swedge-fit into ends and pinned through for maximum strength and dependability. Chrome plated or matte black finish available. Available in 24", 30", 36", and 42" lengths.
Features
30" QUIC-BAR tool - 3-piece - chrome