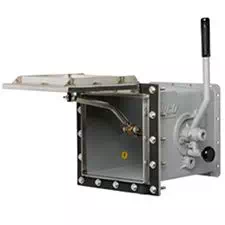 Zico Quic-Flow Dump 10" Square Valve-Manual
Availability:
May direct ship from manufacturer.
10" Square valve: QUIC-FLOW valves are the fastest dumping systems for tankers-bar none-dumping up to 2800 GPM. Mounting the valve at the bottom of the tank provides approximately 1700 GPM, half of valve below tank 2300 GPM, and valve below tank up to 2800 GPM. All components in contact with water are passivated stainless steel. The valve is easily mounted from outside the vehicle by one man. Ordinary valves require an additional person inside the tank while mounting, increasing installation costs. Any adjustments to the valve may be made from outside with the tank full of water. We have design-in options to allow field or factory addition of electrical, pneumatic, or hydraulic control systems. Pre-drilled pads are provided on top of the valve body for attachment of the electrical system. Chutes may be permanently attached or quickly slipped on in the field. Tested to 3000 G.P.M.
Features